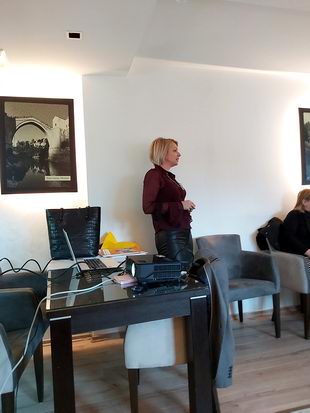 The two-day training P4C - Philosophy for Children within the SAPERE BIH program was realized in Mostar in the period from 17 to 18 February 2021 for representatives of the Ministry of Education, Science, Culture and Sports of the Herzegovina – Neretva Canton, Pedagogical Institute and the Institute for Education Mostar, and teachers working in high schools at the HNC. The training aimed to form a group of experts in the field of critical thinking development, which will also form the first group with the aim of training high school teachers at the Croatian National Theater and integrating the P4C teaching method into the schools of this canton.

The two-day training began with the analysis of previous reports of teachers who applied the acquired skills through this program in their classes and school chambers through the realization of philosophical inquiries. One of the goals of this program is the integration of P4C working methods within the schools themselves and the transfer of acquired competencies to the teaching staff. Feedback from teachers who learn about the program through their fellow teachers and participants in the SAPERE BIH program is extremely positive and indicates the need to find new methods for developing healthy communication within the teaching staff, from which values ​​should be drawn and passed on to students in the classroom. The special importance of this program, which is being implemented in the Herzegovina-Neretva Canton, is the active participation of representatives of educational institutions who work through a collaborative approach with teachers to develop a program for integrating P4C methods in schools in this canton. Through learning about four types of thinking, participants exchanged views on the importance of representing critical, collaborative, creative and caring / empathetic thinking. Along with the moderators of the program, Elmana Cerić and Melika Šahinović, the participants managed to realize philosophical inquiries and understand the important characteristics of inquiry with students and teachers. Special attention was paid to the selection of stimulus and the use of P4C methods in teaching within the realization of classes according to the school curriculum.
In the coming period, participants will conduct a series of philosophical inquiries in schools with students and teachers, and after the final III cycle and testing, certification of the first expert group for teacher training within the P4C SAPERE BIH program in HNK is expected.