FER DISCOURSES: FEMINISM, RELIGION, PERSPECTIVE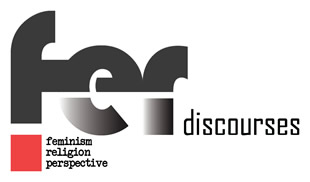 WHAT IS FER Discourses?
Do we have the courage to contest our own beliefs, worldviews and practices? Do we have the strength to stand up against structural violence directed by secular, as well as religious patriarchal institutions? Are we ready to hear out different viewpoints and to allow different opinions to be heard – even if we do not agree with them? Are we prepared to respect human beings' freedom and one's individual rights to choose to believe or not to believe, to question, to doubt, and to search for answers? Can one be a feminist and a believer? If the answer to all these questions is negative, then you are necessarily in need of FER discourses therapy which, through intersection of feminism and religion, offers you new prospects of understanding your own self and the world that surround us.
OUR OBJECTIVES...
A group of citizens, mainly young people from Bosnia and Herzegovina, have started the initiative "Fer discourses" aimed to re-actualize topics of religion and feminism and to bring them back from the margin to the centre of discussions on human rights, equality, justice, equity, and freedom. In a country where more than 90 percent of the population consider themselves to be believers, and where secular laws grounded in international norms of human rights and freedoms are in power, it is important to open a space for dialogue, encounters, learning, and questioning, through facing the feminist and religious perspectives, to reach new formulas for comprehending rights and freedoms, especially of those belonging to minorities.

ACTIVITIES...
Through public discussions, critical and analytical texts as well as scientific research work, the initiative "Fer discourses" will draw attention to increasing problems of discrimination, and stigmatisation of women and other minority groups within the mainstream religious discourse, as well as in the discourses of liberal democracy. If you feel equipped for constructive critical argumentation and discussion, we invite you to join us and to propose your own fer-intellectual contribution in creating an egalitarian value system, contrary to pervasive patriarchal phobia.

FER DISCOURSES PUBLICATIONS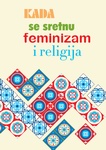 Proceedings WHEN FEMINISM AND RELIGION ENCOUNTER is a result of several cycle of seminars held in different cities in Bosnia and Herzegovina on the topic of Gender Equality Ethos.


FER DISCOURSES EVENTS:


October 2018
FIFTH PANEL DISCUSSION OF FER DISCOURSES:
"INSTRUMENTALIZATION OF A 'LIVING' WOMANS BODY"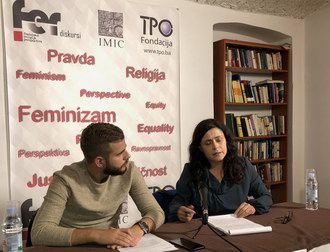 TPO Foundation and IMIC Zajedno from Sarajevo organized fifth session of FER Discourses on October 25, 2018. The session was moderated by Nikola Vučić and professor  Ajla Demiragić from the Faculty of Philosophy in Sarajevo, gave her presentation: "Instrumentalization of female 'living body': from national guardians of life to 'cowgirls with hijab'".


>> MORE
October 2018
ISLAM AND FEMINISM: MISSION (IM)POSSIBLE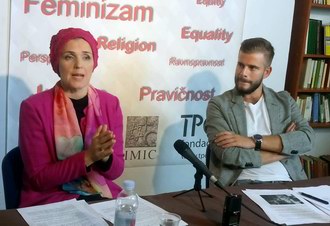 Islam is compatible with feminism, concluded Dr. Zilka Spahić Šiljak in her lecture if we approach ti it from egalitarian idealized cosmology of gender roles. "Islam and feminism: Mission (im)possible", the fourth Fer Discourse session, was held at IMIC Zajedno, on October 5, 2018.

Interview from Urban Magazine brings details from that lecture.

>> MORE
May 2018
THIRD PANEL DISCUSSION WITHIN FER DISCOURSE INITIATIVE:
"FEMINIST READING OF THE BIBLE"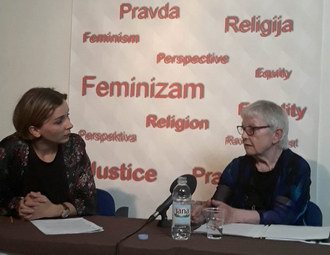 Fer Discourse Initiative team had the honor and pleasure to welcome in Sarajevo Harvard University Professor Elisabeth Schüssler Fiorenza on May 18, 2018, one of the most famous feminist theologists, who spoke of feminist theology from a Christian perspective, on the basis of her many years of academic work which primarily include interpretative strategies of female reading of the Bible. 

>> MORE
April 2018
THE SECOND FIRST PANEL DISCUSSION WITHIN INITICATIVE FOR
FER DISCOURSE: "Religious and secular feminisms"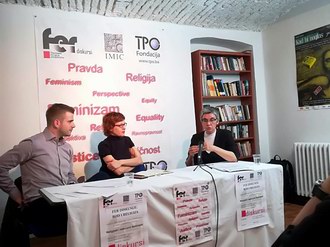 The struggle for abolishment of oppression and structural violence represents the common ground for social engagement of all feminisms, both secular and religious ones – this was emphasized by Adriana Zaharijević and Rebeka Jadranka Anić, panelists at the second session of FER Discourses which was held by TPO Foundation and IMIC Zajedno on April 20, 2018.
The second panel discussion was opened by students of the Dobrinja Gymnasium, Lora Šabanović and Amar Mujanović by a performance. The performance illustrated that secular and religious women were meeting misogyny in everyday life, through different contexts, equally.
A trailer about the second panel discussion Religious and secular feminism within the Fer discourse is available on the following link: https://youtu.be/By05n-6jnXE
>> MORE
March 2018
FIRST PANEL DISCUSSION WITHIN INITICATIVE FOR FER DISCOURSE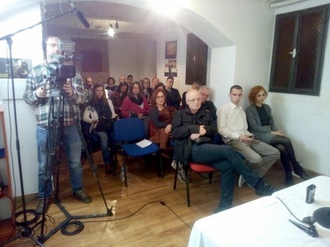 The first in a series of panel discussions for the next couple of months was held as part of Fer Discourse Initiative at IMIC, in Sarajevo, on March 14, 2018. The topic of the first panel discussion was "Between the religious and secular".
The guest lecturer, Drago Bojic, a Bosnian Franciscan, theologian and publicist, discussed the position of religion and religious communities in a secular society such the BH society and spoke about the importance of establishing communication between those two contexts. Mr. Bojic also emphasized the importance of making equal room for faith and non-faith because fanaticism arose, historically speaking, as a consequence of both religious and anti-religious narratives. Seeing a potential for exercising human rights more fully in a secular multi-religious state, Mr. Bojic highlights the importance of dealing with wrongs on all sides, creating possibilities and room for dialog.
The panel was opened by a performance that was prepared by two students from Gymnasium Dobrinja, Lora Šabanović and Amar Mujanović. The aim of the intoductory performance was to show how the religious and secular intertwine within our daily lives, as well as to underline that human beings posess free will and therefore have the right to make their own choices.
A trailer about the first panel discussion "Between religious and secular" within the Fer discourse is available on the following link: https://youtu.be/yYj9Z3KEFH0
>> MORE